In Memoriam Guno James Vianen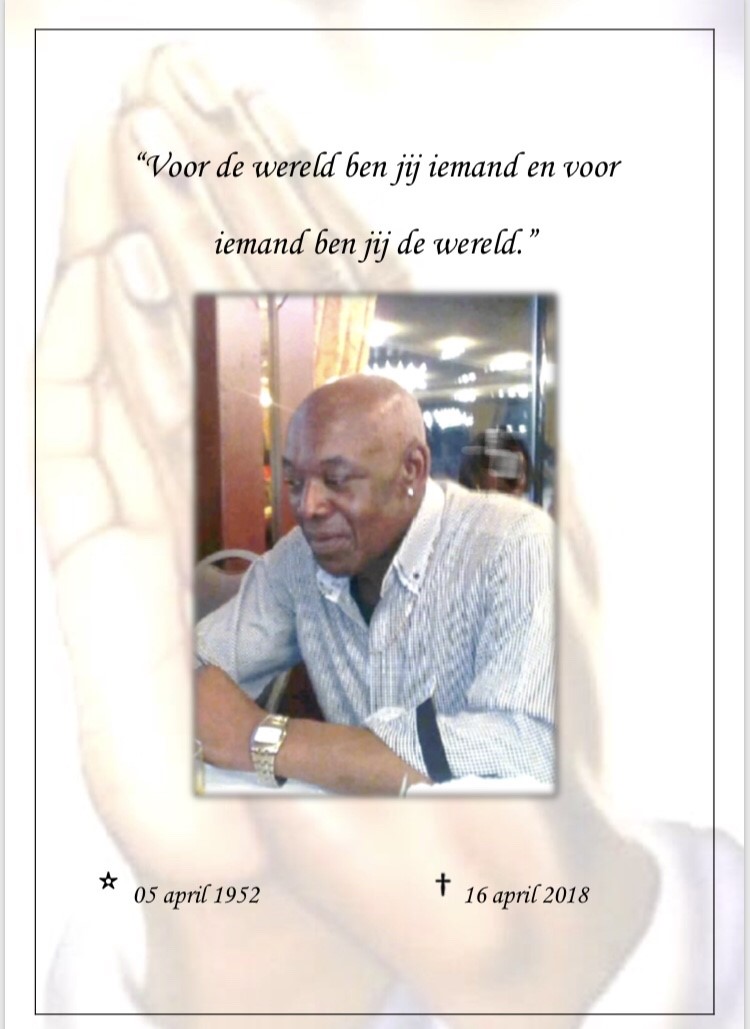 Rotterdam 19 april 2018
Guno James Vianen
geboren Paramaribo 5-4-1952 overleden Rotterdam 16-4-2018

Begraafplaats/crematorium
Yardenhuis Crematorium Rotterdam

"Voor de wereld ben jij iemand en voor iemand ben jij de wereld."
Dapper en gestreden.
Voorgoed uit ons midden maar voor altijd in ons hart!
Diepbedroefd maar ook dankbaar voor de tijd die wij samen hebben doorgebracht in goede en in slechte tijden, delen wij u mee dat van ons is heen gegaan, onze lieve opa, vader, broer, oom, neef en mattie:
Guno James Vianen,
op de gezegende leeftijd van 66 jaar
Geboren op 5 april 1952 en heengegaan op 16 april 2018
Namens de nabestaanden:
Kinderen Guno Esajas en gezin
Samora Esajas
Broers en zussen Francoise Vianen, gezin en kleinkinderen
Lloyd Vianen en gezin
Letitia Vianen
Kenneth Vianen en kinderen
Neven, nichten en overige familieleden
De afscheidsdienst zal plaats vinden op 24 april om 14:45. Maeterlinckweg 101, 3084 KD te Rotterdam. Aansluitend vindt de crematie plaats in besloten kring.
Namens de nabestaanden:
Familie Esajas
Familie Vianen
Om een blijk van medeleven achter te laten kunt u klikken op de link naar het condoleanceregister.
Zijn anderen u reeds voorgeweest dan kunt u hun intekeningen lezen door hieronder op de namen te klikken.
Treft u in het bericht of bij de condoleances onjuistheden of ontoelaatbare zaken aan, dan doet de redactie van Beri hierbij het verzoek om dit zo snel mogelijk door te geven zodat wij dit meteen kunnen corrigeren. Gebruik hiervoor de contactpagina.
U kunt erop rekenen dat velen u hiervoor dankbaar zullen zijn.